Hydra Flow Kit Stainless Steel Vacuum Insulated Bottle 700ml
SKU
Hydra Flow Kit Stainless Steel Vacuum Insulated Bottle 700ml
VACUUM INSULATED DOUBLE WALL:
Our double wall, vacuum insulated, stainless steel bottle ensures your drink stays super cool and refreshing for up to 24 hours or hot and warm for up to 12 hours. Perfect for hot or cold weather. Just pre-heat or pre-cool the bottle with water minutes prior then pour your drink in at the desired temperature.
MULTI USE BOTTLE 2 LIDS INCLUDED:
Sip on the go or pour into a cup. With two interchangeable caps – one twist and pour sports cap ideal for cold drinks and a separate free-flow cap – you can choose whether to drink directly or pour into a cup. Silicone rubber seals the lid so you can continue the day carefree and hydrated without stains or leakage. This water bottle has double walled insulation so you can say goodbye to heat transfer or condensation.
PREMIUM FOOD GRADE STAINLESS STEEL:
Our durable 304 grade stainless-steel helps you to help the environment by reducing disposable plastic and going reusable. Say no to single-use plastic and save money by investing in reusable, long-life products like our superior stainless steel bottle by making them part of your sustainable lifestyle.
GREAT FOR TRAVEL:
Whether you're hiking to the top of a mountain, keeping your thirst at bay at work, reaching your water goals at college or during the daily commute, it's important to stay hydrated. The rust-resistant bottle also fits most drink holders for bikes, car cup holders as well as standard backpack nets and pockets, so your drink is always in arm's reach.
Details
Key Features:
Triple layer, vacuum insulated, stainless-steel premium bottle.
Try all your favourite beverages with your new bottle on your days out, at the gym, at work, around the campfire, or even just at your desk. In a sleek array of colours, this 700ml bottle is highly functional and durable.
We've thought of everything to ensure our bottle makes the perfect gift - from modern contrasting colours, the branded craft tube packaging to the interchangeable caps: a free-flow cap with a flip cover and silicone rubber grip; and the twist and close cap with handy carry loop.
The advanced vacuum sealed double-wall insulates drinks regardless of the outside temperature and makes for fresh-tasting beverages every time.
For best results please ensure you check the lid of the bottle has been correctly secured to the base of the bottle.
Please note this bottle is not dishwasher safe.
Safety advice:
Please read all product packaging literature and product labels before use.
Dimensions:
Width: 7.5cm
Depth: 7.5cm
Height: 28cm
Weight: 362g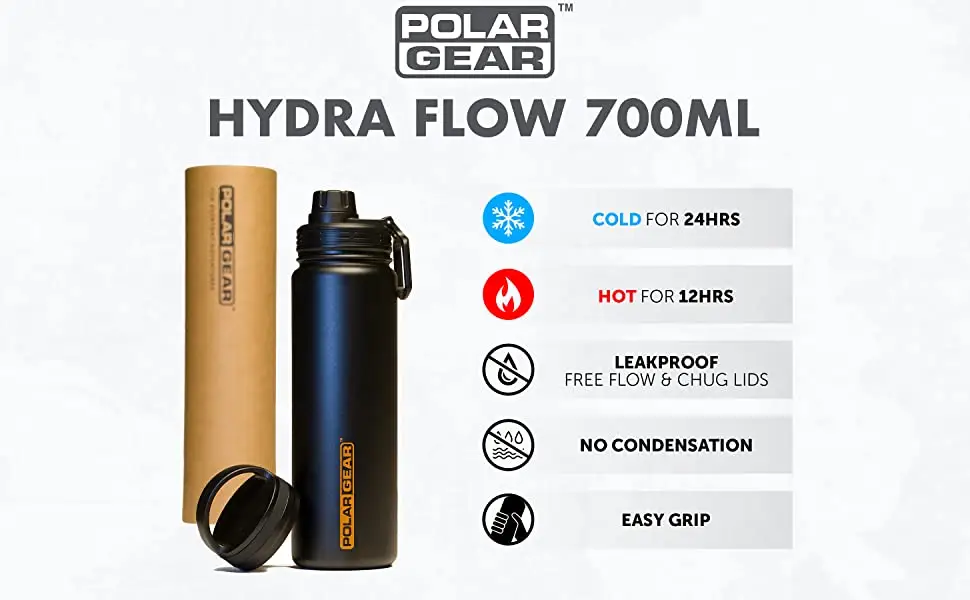 The essential bottle for taking cold or hot drinks out and about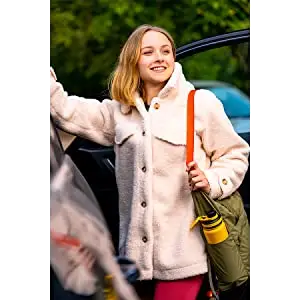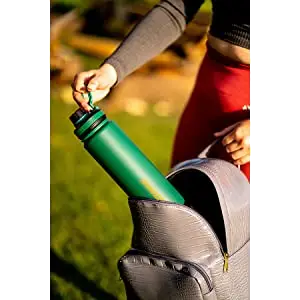 Bring along on a walk outdoors
Keep close by when exercising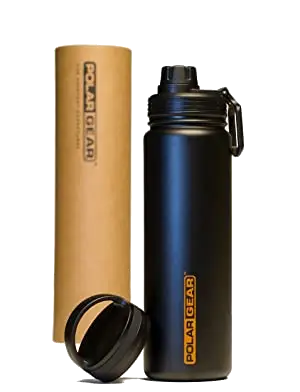 Hydra Flow bottle with 2 caps included
Polar Gear's Hydra Flow
700ml capacity
Packaged in branded gift tube




Gift to your loved ones or treat yourself to be more sustainable and reduce single use plastics.

Long-lasting water bottle




All of our Hydra range is made with double wall stainless steel bottle that is rust resistant and scratchproof.

Dual-use: perfect for cold and hot drinks




The dual use stainless steel water bottle is perfect for using for both cold and hot drinks and is perfect for anyone looking to increase their water intake.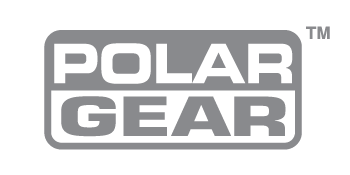 20 years of quality & performance Tested for durability
Our non-toxic, BPA-free stainless steel water bottles have passed BSEN's stringent temperature testing standards.
Our stainless steel water bottles are non-toxic and BPA free, with our Hydra range made of 18/8 food grade stainless steel.
Hydra Flow Stainless Steel Vacuum Insulated Bottle 700ml with 2 lids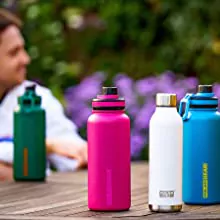 Pre-cool to keep your drink cold
Pour ice cold water into any of our Hydra bottles for ten minutes before adding your beverage to keep your drink chilled for up to 24 hours.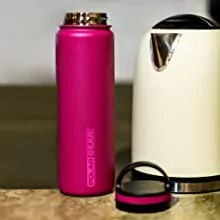 Pre-heat to keep your drink hot
Pour hot water into the bottle ten minutes before adding your tea or coffee to keep your drink warm for up to 12 hours.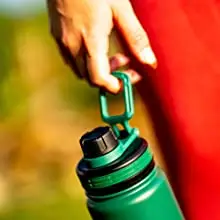 Handy carry loop
Carry the large bottle while out and about shopping, over mid-range treks or on your commute.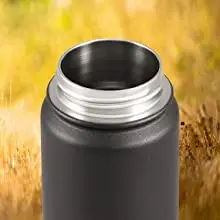 Wide bottle neck
The wide neck design for super easy clean and refill and for adding ice to your drink.

Reviews
Questions (0)